Quartz Gua Sha Tool – Premier Quality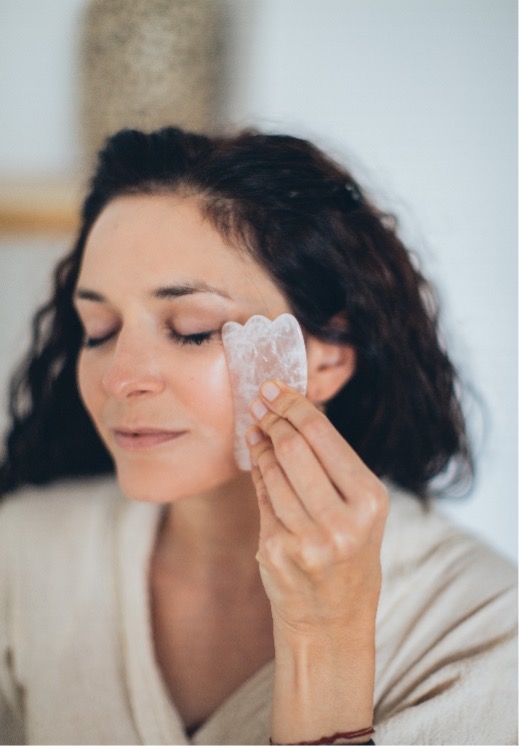 Information
The Quartz Gua sha is a painless gentle scraping massage tool. It has been used for centuries by traditional Chinese medicine healing therapists for health and cosmetic use.
This beautiful quartz tool not only feels great on the face and neck, it also has a long list of benefits accredited to it, such as enhanced serum and cream absorption reducing puffiness, increasing circulation, for brighter, more toned and radiant skin.
It was prized for cosmetic use by the Chinese empresses in ancient time for this very reason!
Features
Ultra smooth fine polished surface for skin comfort.
Growing in popularity worldwide for cosmetic use
Ergonomic design for ease of use
Made of high quality 100% authentic natural quartz, durable, static free and easy clean.
Size: Approx 8 * 5 * 0.6cm/ 3.15 * 1.97 *0.24 inch (L*W*H).
Instruction is with Anne during your regular scheduled in-clinic visit for acupuncture, herbal medicine or naturopathy.
As a trained accredited traditional Chinese medicine practitioner, Anne understands your needs and will promptly establish the particular cosmetic issues you would like to address – this will enable you to know precisely how to use your quartz instrument. You will also be given an instructional hand out for home care referral.
Options
Quartz Gua Sha Tool, PLUS In-clinic instruction for personalised use €30
Quartz Gua Sha tool €15
BUY NOW
Knowledgeable, Caring & Results-driven