Ear Seed Healing (Self-application)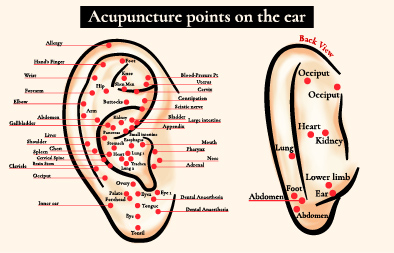 Information
Based on the centuries old therapy of auriculotherapy, Ear seeds are tiny seeds used to stimulate pressure points in your ear. They're a style of auriculotherapy, which pertains to acupressure or acupuncture focused on the ear. These seeds from the Vaccaria Plant stimulate the acupressure point by exerting mild pressure when they are placed on the correct points.
*Note – please mention purchase at start of session, so time is put aside for your  home-use instruction.
Features
Selected Vaccaria Seeds sorted to approximately 2mm in size.
Packaged with breathable surgical adhesive tape on plastic carrier.
Use only Hypoallergenic 3MTM surgical tape. Simply peel and apply.
100 taped Vaccaria seeds per box.
Instruction is with Anne during your in clinic visit for acupuncture, herbal medicine or naturopathy.
As a trained accredited acupuncturist who knows your health profile and the particular issues you would like to address, this will enable you to know precisely which ear acupressure spots are best for you and how to use your seeds, along  with an instructional hand out.
Options:
Traditional Medicine, healing Ear Seeds + in-clinic instruction for personalised use €30
Traditional Medicine, healing Ear Seeds box €15
BUY NOW
Knowledgeable, Caring & Results-driven